Legends of Iroquois Hall of Fame
Brenda Tombaugh
Monday, November 18, 2019
On Friday November 15, 2019, The Iroquois School District Foundation honored six individuals with the honor of "Legend of Iroquois". The honorees were: Jim Infantino, Nancy Zdarko Svoboda, Jack Mosher, Johnny Cunningham and Ron & Elayne Brooks. Over 100 people gathered to celebrate their accomplishments as Educators, Musicians, Researchers, Scientists and Community Leaders. Family and friends traveled from New Jersey, Illinois, North Carolina and Florida to hear their inspirational stories. State Representative Pat Harkins was on hand to share a Proclamation for each as recognition from the State of Pennsylvania honoring their contributions.
Prior to the Legends of Iroquois Hall of Fame Dinner, Jack Mosher, PhD was invited to speak with the AP Biology Students at the High School. He was able to discuss his education at Iroquois and beyond, as well as his work in Stem Cell Research with 30 students. The students had amazing and in-depth questions for him about his work and his time and insight were appreciated.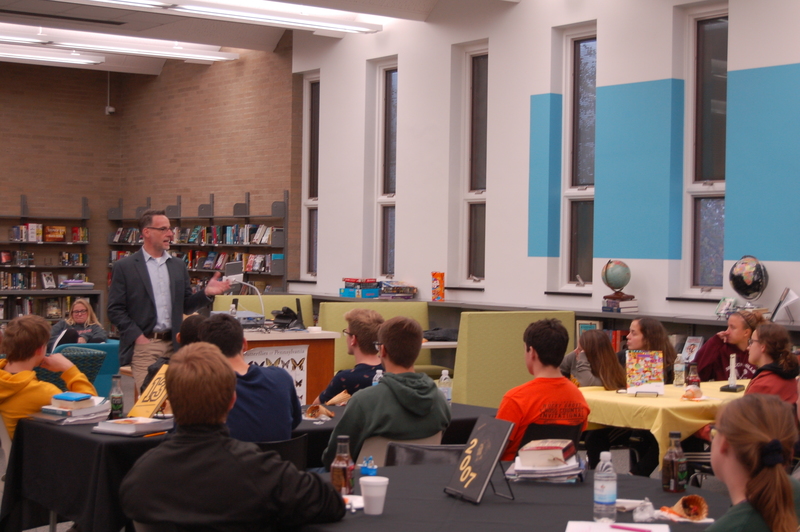 Photos are: Iroquois School District Foundation Board President Gary Foster with the family of Johnny Cunningham – Mrs. Beth Hoke, Mr. Bill Hoke, and Peggy Mann. Jack T Mosher, PhD speaking with students in the Iroquois High School Library.