IES families are reminded that students will not have school Friday, February 14th or Monday, February 17th. Have a great long weekend.

UPCOMING EVENTS - 2/13 - BBB Playoff @ Sharon 7p 2/15 - GBB Playoff @ Mercer 7p 2/17 - No School 2/19 - Sports Booster Mtg 6pm Cafe 2/20 - Family Paint Night 6pm 2/22 - IHS Soccer Club Tournament

Game Change Announcement - Tonight's girl's varsity basketball game will start at 6:00pm. Greenville has requested no JV game for tonight's contest.

UPCOMING EVENTS - 1/27 Swim 6p, 1/28 JH Parent Conf. & JHBB @4p, 1/30 Swim 6p, 1/31 VBB 6p, 2/1 Sadie Hawkins Dance 7:30,

Parent Teacher Conferences Just a reminder that 7th & 8th grade students will not have school on Tuesday, January 28, 2020 due to parent teacher conferences.

In order to insure student safety in the morning, please form a single car line and drop your child off along the curb. Thank you for helping us keep our kids safe. Have a great day.

UPCOMING EVENTS - 1/13 Swim 6p, 1/14 JHBB 4pm, 1/15 Winter Keystone Bio & Wrest 6p, 1/18 Invitational Swim 9a.

What a great transition back to school! Very impressed with student and teacher "re-entry" after the holiday break. #greatestelementaryschoolontheplanet

Students at "the greatest elementary school on the planet" are invited to join the staff in our traditional Christmas Sweater day on Friday, December 20, 2019. We look forward to seeing our school spirit in action. Happy Holidays!

UPCOMING HOME EVENTS 12/9 Speech & Debate Mtg - 12/10 GBB 6p v Maplewood - 12/11 Winter Band Concert 7:30p - BBB v Conn 6p - 12/12 Swim v FV 6p - Wrest v FLB 6p - 12/13 JHBB v HC 4p - BBB v EFC 6p

UPCOMING EVENTS 11/26 Meet The Braves - Gym 7pm 11/28-12/2 No School 11/30 - GVBB @ Corry 10am

UPCOMING EVENTS 11/18 Speech & Debate Mtg Winter Sports Begins 11/19 ECTS Application Asst. 11/21 N.H.S. Induction Ceremony 7pm 11/22 Glow Dance 7:30pm-10:30pm
The Lady Braves Volleyball team lost a close match tonight against Seneca tonight. Keep fighting girls.
Lady Braves Volleyball in a close match at home. First game goes to Seneca 25 to 22.
Welcome Back Teachers!

And the award goes to.... Iroquois Elementary's very own Mr. MacKelvey. Mr. MacKelvey was nominated by a fourth grade student for the WJET/Edinboro University Golden Apple Teacher of the Week. The Golden Apple crew visited our school on March 27th to surprise him. The segment will air on Wednesday, April 10, 2019 at 6 PM.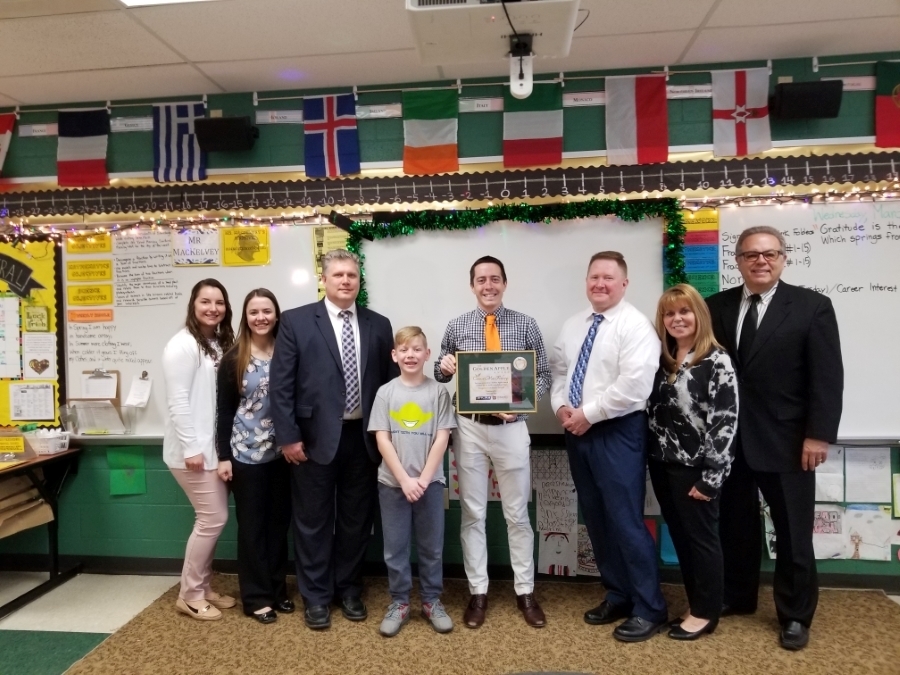 It's time to register your Kindergarten children for the 2019/20 School Year! Parent meetings and registration info here!