COVID-19 District Information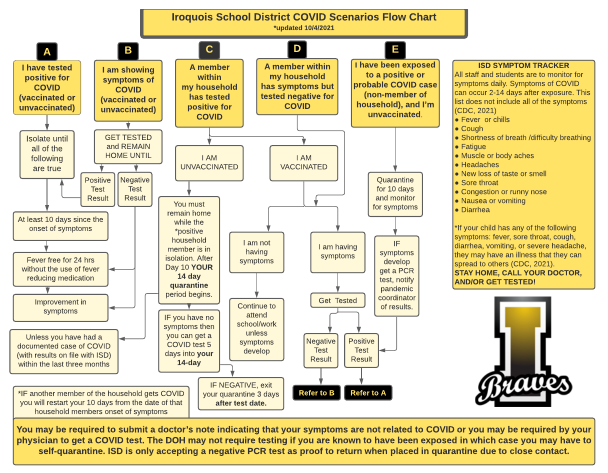 Dear Parents and Families,
ISD's Health & Safety Plan outlines our process for the continued safety of our students, staff, and community. In order to continue to meet the goal of maintaining 5-day in-person instruction, the Iroquois School District asks that you continue to monitor symptoms associated with COVID-19 before sending your student to school.
What are the symptoms of COVID-19?
People with COVID-19 have had a wide range of symptoms. Symptoms may appear 2-14 days after exposure to the virus. This list does not include all possible symptoms (CDC, 2021).
Fever (100 degrees or higher) or chills

Cough

Shortness of breath or difficulty breathing

Fatigue

Muscle or body aches

Headache

New loss of taste or smell

Sore throat

Congestion or runny nose

Nausea or vomiting

Diarrhea
What should I do if my child has symptoms?
If your child has symptoms of COVID-19 you should get tested, stay home and away from others. Report any positive test results to the Pandemic Coordinator as soon as possible.
What do I do if my child is vaccinated?
Your child is able to continue to come to school as long as he/she is not experiencing symptoms. You should still monitor symptoms of COVID-19, especially if in contact with a known case of COVID-19. Anyone who has symptoms of COVID-19 should get tested, stay home, and away from others. Erie County Department of Health requires visual proof of vaccination for those who do not require quarantine, please submit to czimmerman@iroquois.iu5.org.
Who needs to quarantine?
Unvaccinated individuals who have been in direct contact with a known infected individual. Even if contact occurred up to 2 days before the individual became symptomatic, you should quarantine and contact the Pandemic Coordinator. Regardless of vaccination status, any person with new or unexplained symptoms of COVID-19 still needs to quarantine and test.
All individuals exposed should get tested 3-5 days after exposure, social distance, and mask indoors and around others for 14 days from exposure.
August 29, 2021, Face-Coverings Announcement
In consideration of the masking mandate for all schools, Iroquois students will be required to wear a face-covering when inside the school building. A face covering means a covering of the nose and mouth that is secured to the head with ties, straps, or loops over the ears or wrapped around the lower face. It must completely cover the nose and mouth. Face shields are NOT an acceptable face-covering due to the open spaces that do not protect against the spreading of respiratory droplets. The only exemptions in place for public schools are:
particular medical conditions;

performing tasks when a mask would cause an unsafe condition;

inability to remove a mask without assistance;

anyone who is younger than two;

anyone participating in a sport or certain other activities such as playing musical instruments.
Erie County has rescinded religious exemption of indoor masking. Thank you and we appreciate your help in following state and local guidelines on masking.
COVID-19 SYMPTOM GUIDANCE
People with COVID-19 have reported a wide range of symptoms (including no symptoms) – these can range from mild symptoms to severe illness. Symptoms may appear 2-14 days after exposure to the virus. Students, teachers, and staff should stay home when they have signs of any infectious illness and be referred to their healthcare provider for testing and care.
Major Symptoms of Infectious Disease and/or Major COVID-19 Symptoms
Fever/Chills | Sore Throat | Cough | Diarrhea | Nausea or Vomiting
Severe Headache | New Loss of Taste/Smell
The above symptoms may be caused by an illness that can spread to others (contagious illness). Anyone with these symptoms should:
1. Stay home
2. Test or seek guidance from your primary care physician regarding a recommendation to test for COVID-19
If someone is showing any of these signs, seek emergency medical care immediately:
• Trouble breathing
• Persistent pain or pressure in the chest
• New confusion
• Inability to wake or stay awake
• Pale, gray, or blue-colored skin, lips, or nail beds, depending on skin tone
Other Potential Symptoms
Fatigue | Muscle/Body Aches | Headache
Congestion/Runny Nose | Shortness of Breath
If any of these other potential symptoms are not normal for you given the time of year OR your personal health history OR normal symptoms for you get worse OR are unusually bad, you should:
1. Stay home
2. Test or seek guidance from your primary care physician regarding a recommendation to test for COVID-19
Executive County Masking Order
ISD Health and Safety Plan 2021-2022
August 17, 2021
Click HERE to view the school board-approved Health and Safety Plan for the 21-22 school year.
Close Contact Information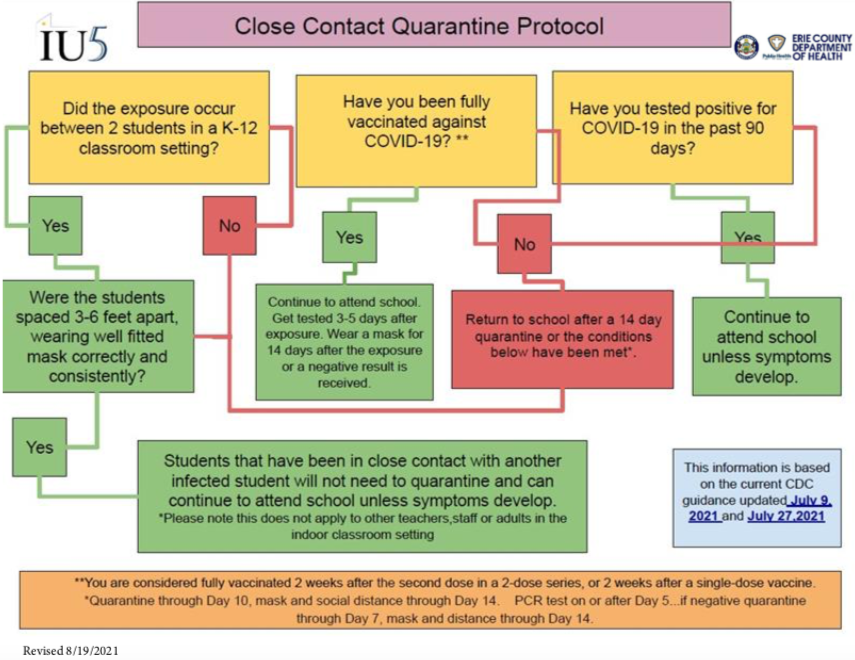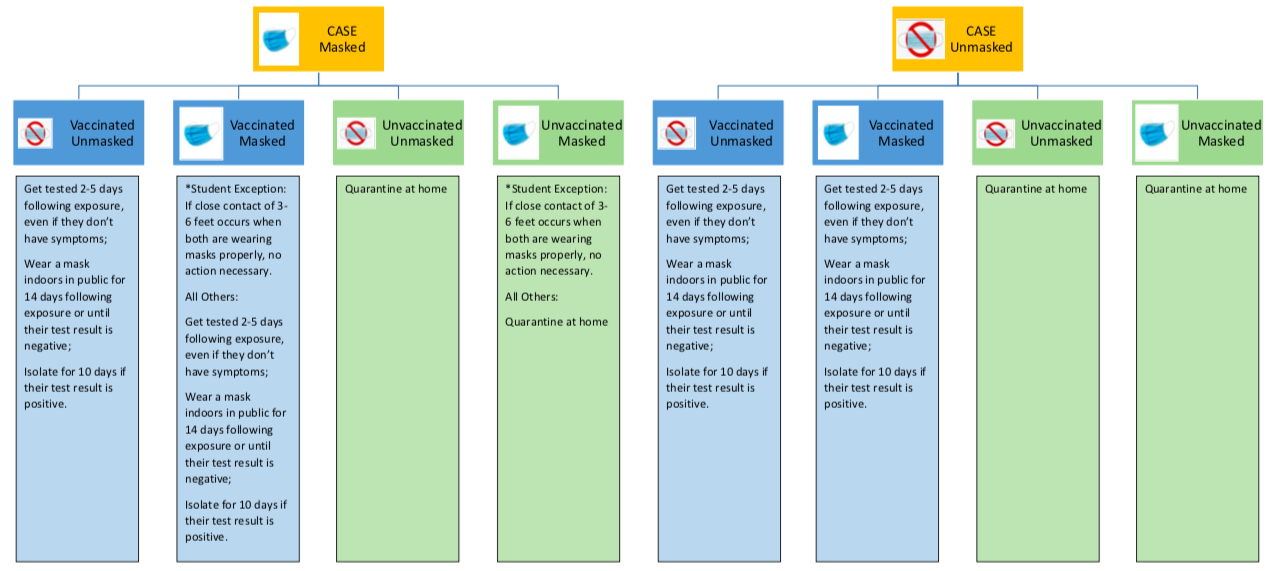 December 3, 2020
BOARD UPDATES GUIDELINES FOR IROQUOIS ATHLETIC PROGRAMS
At their December meeting, the Board of Directors updated the guidelines for Iroquois student-athletes and home sporting events.
All Iroquois sports will be cancelled in the event that the Iroquois School District closes its schools due to COVID. If the elementary school closes, elementary sports will be canceled. If the junior/senior high school closes, all junior high and senior high sports will be canceled.
If the District closes due to lack of available staff, sports will be permitted to take place.
Additionally, revisions were made to the attendance guidelines for Iroquois athletic events.
December 1, 2020
ISD SUBMITS ATTESTATION ENSURING IMPLEMENTATION OF MITIGATION EFFORTS
In order to continue our in-person learning, Iroquois School District was required to submit an attestation to the PA Department of Education. The attestation testifies that Iroquois is taking all necessary mitigation efforts to keep our school environment safe for in-person instruction. The document can be reviewed in its entirety HERE.
September 23, 2020
ATHLETIC HEALTH AND SAFETY PLAN
The ISD Board approved the Athletic Health and Safety Plan on September 22, 2020.
The Plan document can be reviewed HERE.
September 9, 2020
Dear Parent/Guardian,
Coronavirus disease 2019 (COVID-19) is the infectious disease caused by the severe acute respiratory syndrome coronavirus 2 (SARS-CoV-2). COVID-19 is mostly spread by respiratory droplets released when people talk, cough, or sneeze. It is thought that the virus may spread to hands from a contaminated surface and then to the nose or mouth, causing infection. The more people (i.e. students and employees) interact with a symptomatic person, and the longer the interaction, the higher the risk of COVID-19 spread. Therefore, personal prevention practices, such as handwashing, staying home when sick, and environmental cleaning and disinfecting are important principles to consider. (CDC, 2020)
During this unprecedented national health emergency, the Iroquois School District is proactively monitoring COVID-19 to reduce community spread. Our schools will adhere to established COVID-19 school health procedures. If a student presents with the combination of the following, she/he will be sent home along with a copy of the Health Room Symptom Referral Form completed by the nurses. It is recommended the parent consult with a healthcare provider prior to the child returning to school.
If your child displays either of these scenarios, the following Health Room Symptom Referral Form will be completed by our staff and accompany your child when s/he is sent home.
The following plans were approved by the ISD School Board on July 14th:
IROQUOIS ATHLETIC-RELATED COVID-19 UPDATE
Iroquois School DistrictAthletic Department
|Resocialization of Sports Recommendations
The COVID-19 pandemic has presented athletics across the world with a myriad of challenges. The COVID-19 virus is a highly contagious illness that primarily attacks the upper respiratory system. The virus that causes COVID-19 can infect people of all ages. Research from the Centers for Disease Control, among others, has found that while children do get infected by COVID-19, relatively few children with COVID-19 are hospitalized. However, some severe outcomes have been reported in children, and a child with a mild or even asymptomatic case of COVID-19 can spread the infection to others who may be far more vulnerable. While it is not possible to eliminate all risk of furthering the spread of COVID-19, the current science suggests there are many steps schools can take to reduce the risks to students, coaches, and their families.
The Iroquois SD will take the necessary precautions and recommendations from the federal, state, and local governments, ECDOH, CDC, and PA DOH, as well as the NFHS and PIAA. The Iroquois SD realizes the knowledge regarding COVID-19 is constantly changing as new information and treatments become available. These recommendations will be adjusted as needed as new information becomes available in order to decrease the risk of exposure for our staff, students, and spectators.
Downloadable and Printable Documents:
ISD Resocialization of Sports Recommendations - full document
ISD Athletic Participation Waiver for Communicable Diseases Including COVID-19
ISD CONTINUITY OF EDUCATION PLAN