WELLNESS COMMITTEE MEMBERS
| | |
| --- | --- |
| Dr. Thad Urban | ISD Assistant to the Superintendent |
| Braden Hanlon | IES PE and Health Teacher |
| Suzanne Demyanovich | ISD School Nurse |
| Kelly Orlando | ISD Food Service Director/Nutritionist, The Nutrition Group, Inc. |
| Jennifer Foutz | IES Principal |
| Jeannene Willow | Business Manager |
| Mike Greider | IES Head Custodian |
| Dr. Steven Krauza | Parent/Community Wellness Expert |
| Carl Zimmerman | Athletic Director and Safety Coordinator(Committee Chairperson) |
| Jessica Kidd | IHS Teacher |
The Iroquois School District Committee welcomes feedback on the Wellness Policy, Assessment, and programs at any time from all stakeholders. If you would like to share suggestions or participate on the Wellness committee, please email: jwillow@iroquois.iu5.org
IROQUOIS SD WELLNESS POLICY
The District Wellness Policy can be reviewed by going to the link below. It is reviewed annually by our Wellness Committee. If you have any questions regarding the Wellness Policy, please contact Carl Zimmerman, 814-899-7643 ext. 2503.
Wellness Policy Assessment Tool and Report
Link: Wellness Assessment
WELLNESS PROGRAMS AT ISD:
Fresh Fruit and Vegetable Grant Program
Iroquois Elementary School received a grant for this school year that provides our elementary students with a fresh fruit or fresh vegetable 3 times per week. This healthy afternoon treat is delivered to the classrooms and provides the students with exposure to healthy food choices that they may otherwise not have the opportunity to experience.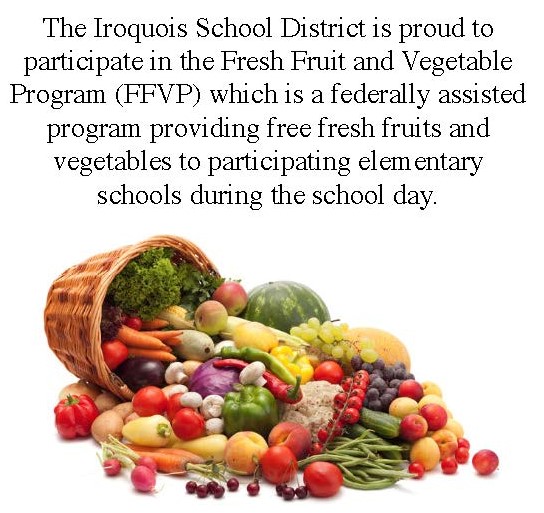 Wellness Wednesday
Wellness Wednesday is a program in which our elementary students have come to love. Healthy, different food items are offered as a sample, encouraging students to try something new. The recipes use healthy, wholesome, and sometimes uncommon ingredients (such as farro or quinoa). A hand-out is sent home with students including nutrition facts, activities, and recipes.
Feature of the Week
At the secondary level and during each month, there is a special featured in the cafeteria a la carte section. These items range from a healthy Rootbeer Float to Asian Spring Rolls to Chocolate Dipped Fruit.
Recipe of the Month
Each month all secondary level TNG schools offer a Recipe of the Month. These homestyle entrees are created by our Corporate Chefs utilizing modern, healthy, and tasty ingredients. Some examples include: Savory Ham Pot Pie, Chili Cheese Tots, and Buffalo Chicken Alfredo.
Fun Days
The cafeteria provides students with nutritious, healthy food to nourish the body and mind. In addition, the café is also a place for students to gather and unwind for a brief period of time. Special, fun days are planned each month to help make the café a safe, happy, and comfortable place for students to enjoy. A few examples of our fun days are: Halloween Coloring Contest, National Popcorn Trivia Day, Twelve Days of Christmas, Super Bowl Contest, Lunch and a Movie, Groundhog Day, Disney Day.
Create Your Own Bowl
Create Your Own Bowl is a secondary level concept to give students more control in their entrée choice, toppings, and serving size. At least two Create Your Own Bowls are offered during the month. Options include: Fiesta Bowl, Pasta Bowl, Potato Bowl, Rice Bowl, and Salad Bowl.
Children need access to healthful foods and opportunities to be physically active in order to grow, learn, and thrive. Such good health fosters student attendance and education.
Unfortunately, obesity rates have doubled in children and tripled in adolescents over the last two decades. The predominant causes of obesity are excessive caloric intake and physical inactivity. Unhealthy habits established in childhood can lead to increased risk of heart disease, stroke, and diabetes for adults.
The National Alliance for Nutrition and Activity (NANA) provides documentation of the national impact of the increase in obesity and inactivity in its report, "Obesity and Other Diet- and Inactivity-Related Diseases." The entire report with supporting statistics is available at www.NANAcoalition.org.
Nutrition Standard
Plan school meals to meet standards defined by the State ad Federal regulations and recommendations.

Operate the School Breakfast Program to ensure that all children have access to breakfast.

No food or beverages shall be sold to students during established meal periods other than those sold by School Food and Nutrition Services.

All foods and beverages sold during the school day must meet established nutrition
Nutrition Education Goals
Provide classroom nutrition education that consists of age appropriate activities.

Expose students to a wide array of healthy foods and choices.
School Initiatives
Fresh fruit and vegetable snack

Pilot Breakfast in the Classroom (Elementary School)

Partner with Nutrition Inc. to showcase a new food

Expand on the vegetable garden

Repair/Restore Greenhouse

Nutrition Education integrated in Health classes

Physical Activity Goals
Provide regular physical education instruction for every student.

Students shall be moderately to vigorously active as much time as possible during a physical education class. *Adaptive physical education and medical curriculum will be established to accommodate students.

Offer a variety of cooperative, individual/personal and competitive physical activities in physical education classes that shall reflect the needs and interests of all students.

Prohibit using physical activity as a punishment and strongly discourage withholding opportunities for physical activity as a punishment.

Work cooperatively with private and community organizations to make quality activities, spaces and facilities available to students, staff, and community members.

Provide at least twenty minutes each day of supervised recess for all elementary school students.

Create a brochure/publication that details the extracurricular physical activity programs available to all elementary, middle, and high school students.
Student Wellness Initiatives

President's Fitness Challenge00 Mile Club

Fuel Up to Play 60

Principal's Boot Camp Partner with YMCA

Provide 9th grade Students with Guest Memberships

Certified P90X instructors

Justice Jumpers (jump rope team)

Fit 4 U Club – morning fitness

PRIDE (Practicing Repeatedly Increases Development of Excellence) – before-school basketball drills

Mighty Milers after-school running

Don't Give up Your Stick – monthly sustained running minutes

Ring the Bell Challenge – climb diagonal pole on playground and ring bell at top. Pictures taken and posted.

Faculty and Student Push-Up Challenge

Jump Rope for Heart

Hoops for Heart

Walk for Diabetes

Walk for Autism

Field Day

Administer and analyze Wellness Screenings

Height/Weight BMI/Push-Ups/Pacers Test

Boys/girls Biddy League Basketball

Boys/girls soccer club