The Iroquois Band Rummage Sale & Car Wash, scheduled for June 10, 2023, has been cancelled.

The Iroquois volleyball staff and current jv/varsity players will be hosting a clinic for girls currently in 4th - 6th grade Please see flyer for additional information.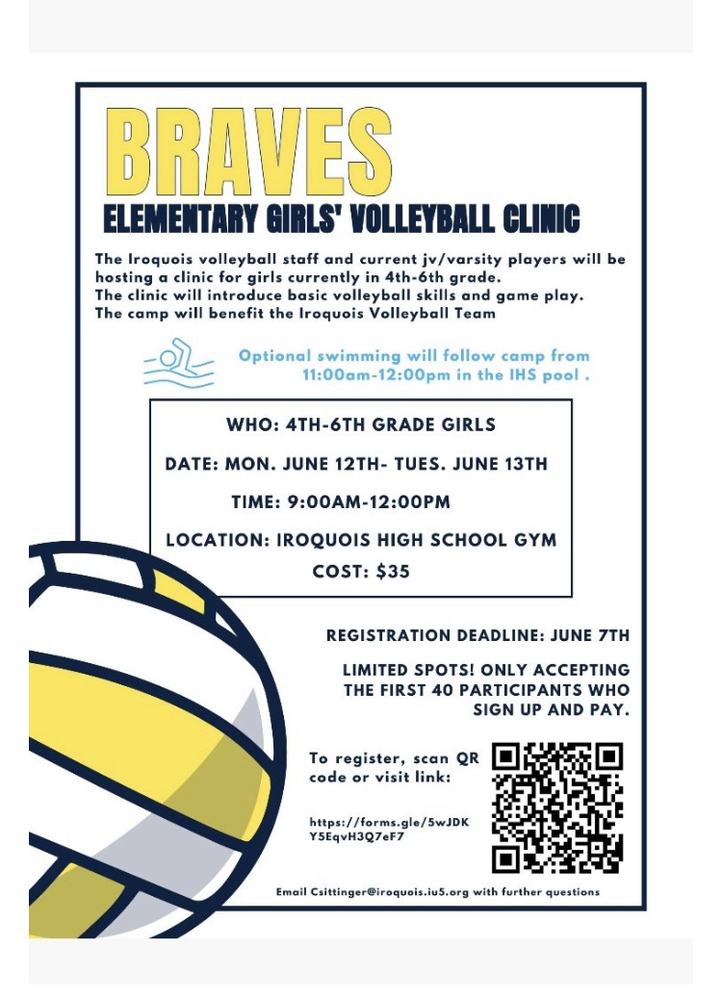 Any students going in 7th - 12th Grade, for the 2023-2024 SY, interested in playing sports, are invited to "Meet the Coaches" on Monday, June 5th, 6:00 - 7:30 PM in the Iroquois High School Lobby. See flyer for additional details.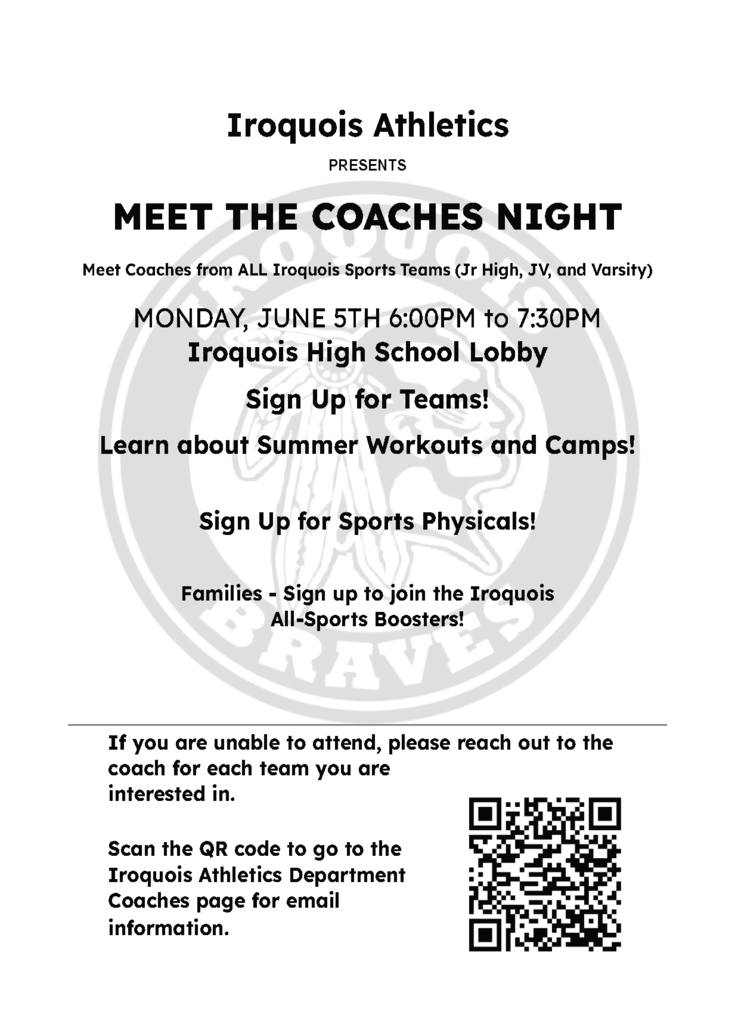 Andrew Hatton finished 20th overall in the PIAA state meet in the Javelin with 148' 1" throw. Congratulations on an excellent season.

The Braves defeated West Middlesex 6-2 to advance to the district 10 championship game against Cambridge Springs.

Attention Iroquois families! Safety Town is a program for incoming Kindergarten students designed to promote safety for our children that will be at the Elementary School from June 12 – 16, 2023. There are two sessions: Morning 9 – 11 am or Afternoon 12:30 – 2:30 pm. Through various activities sponsored by the East Lakeshore Lions Club, Iroquois School District, Lawrence Park Police Department and Lawrence Park Fire Department, they will learn street and fire safety, stranger danger and how to communicate with community helpers! If interested, please submit the form:
https://forms.gle/5GSWtUqBgLxQjhJn7
Any questions, email Tammy Benovic at
tbenovic@iroquois.iu5.org
.

The Iroquois volleyball staff and current jv/varsity players will be hosting a clinic for girls currently in 4th - 6th grade Please see flyer for additional information.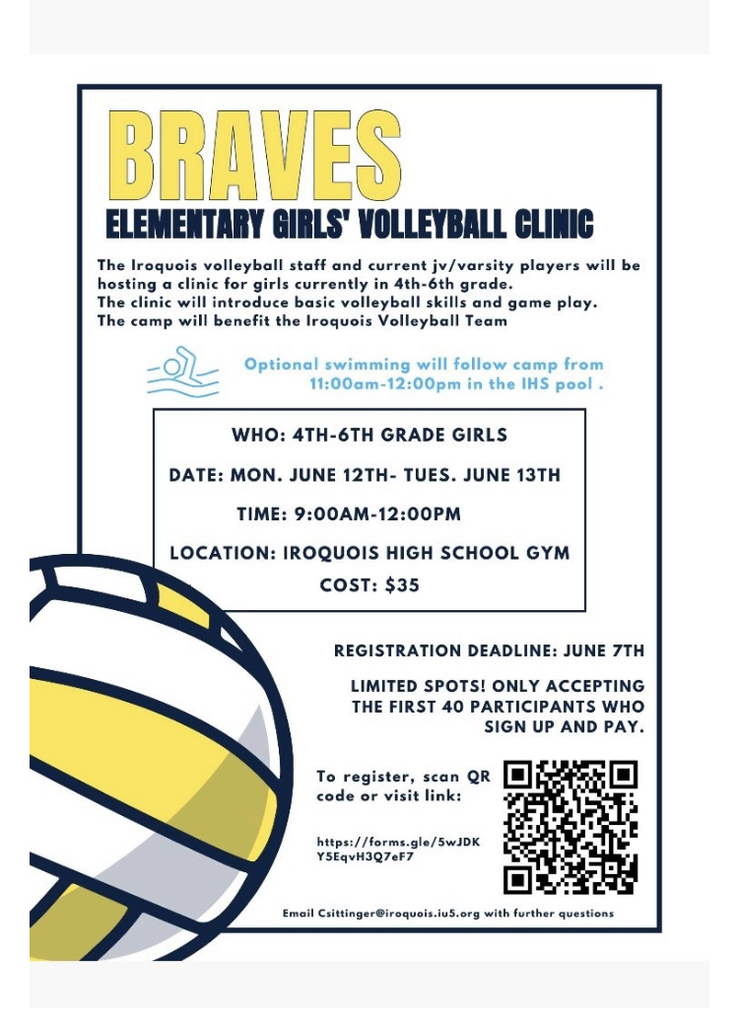 The Iroquois Varsity Football Staff and Players will host the 1st Annual Braves Summer Football Skills Camp. Please see attached flyer for additional information.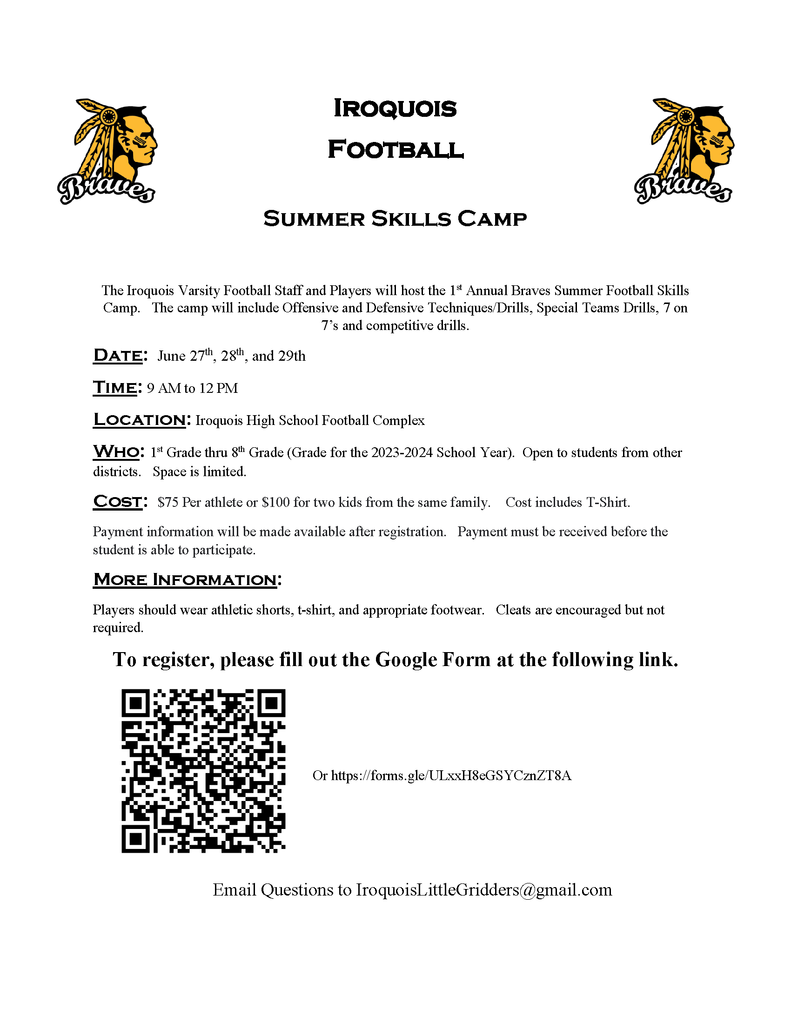 Please join Iroquois School District, in partnership with Harbor Creek and North East School Districts in support of Mental Health Awareness month. Please click on the following link:
https://bit.ly/41ogV1U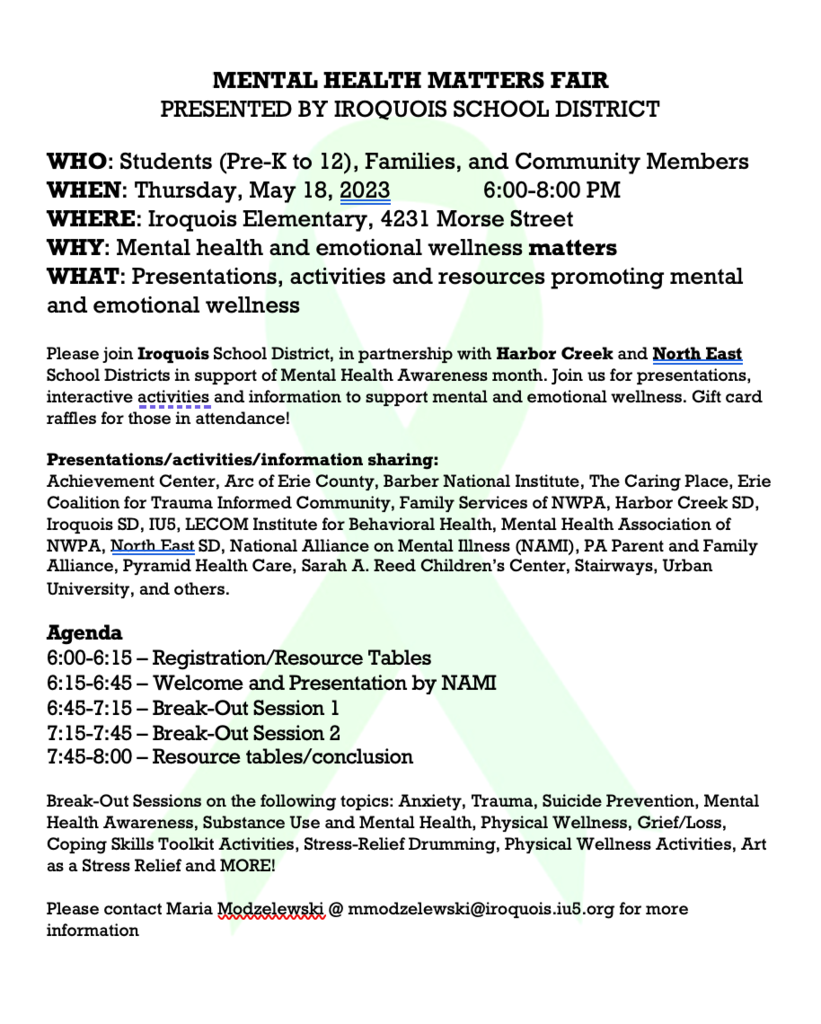 SOFTBALL Cancelation - Mercyhurst Prep is unable to field a team today. The game has been canceled, check with the coach on practice times.

The Braves Baseball is on a three game winning streak. They took down region opponent Eisenhower 9-6. Come support the boys tomorrow night at UPMC Park. JV at 4, Varsity at 6. There is no cost for admission. Go Braves

The Iroquois School District mourns the loss of Tom Roberts. Losing someone who has played such an important role in the community as a coach, assistant, and announcer is such a difficult and sad experience. We extend our deepest condolences to his family and all those who knew and loved him. His contributions to Iroquois little league and Softball will not be forgotten, and his legacy will continue to inspire future generations of athletes and coaches.

The track meet was moved to Harbor Creek today.

The Nutrition Group, in partnership with IES staff, were pleased to have the first annual IES Cafeteria March Madness competition. Prior to event, meal quantities were analyzed for their popularity and ranked based on frequency of student selection. Homerooms, and individual teachers, were able to submit a bracket to enter the competition. The "Final Four" were pizza, walking taco, chicken patty, and Fiestada pizza. Pizza and walking taco competed in the finals and in a surprising upset walking taco won by 14 lunches! Five homerooms and two individual teachers were crowned victories! A huge thank you to the staff at Nutrition Group for making this fun experience for our IES students.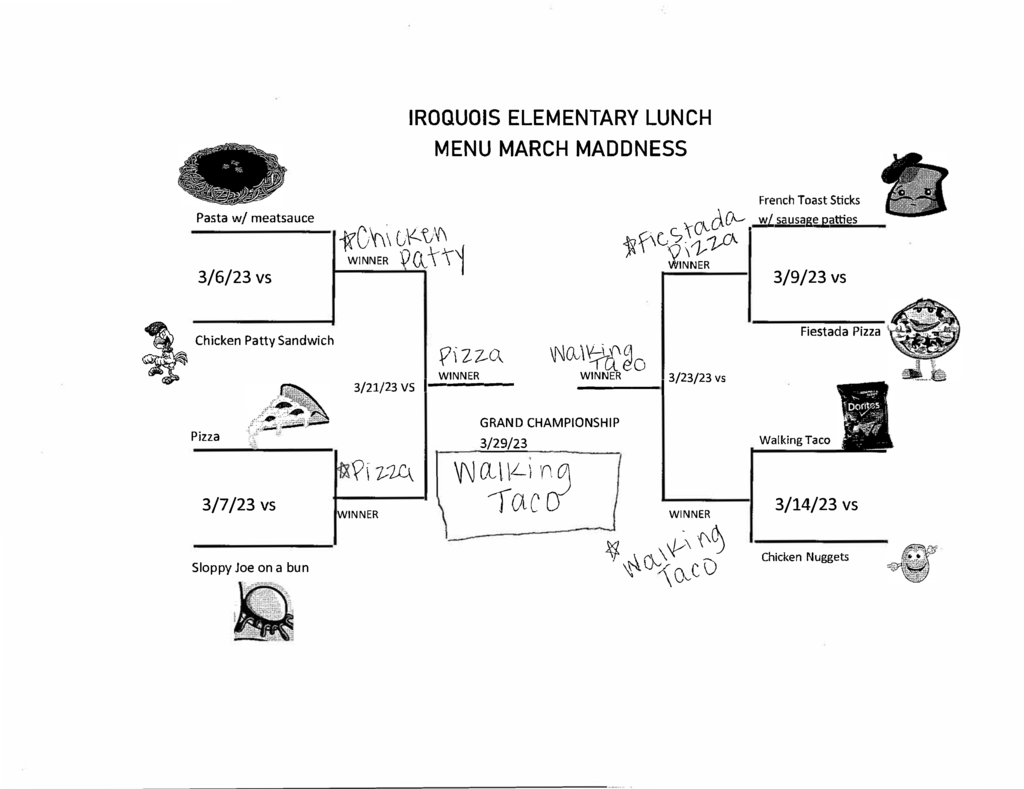 Attention IES families! We have a limited number of yearbooks that are up for sale beginning tomorrow, Thursday, March 30, 2023 at 9:00 am. They will be sold on a first-come first-served basis for $12.00. Thank you.

I.H.S. Yearbook - We sold so many yearbooks last week that we have decided to extended the deadline! We are at 105 yearbooks sold and only need 45 more to reach our sales goal of 150.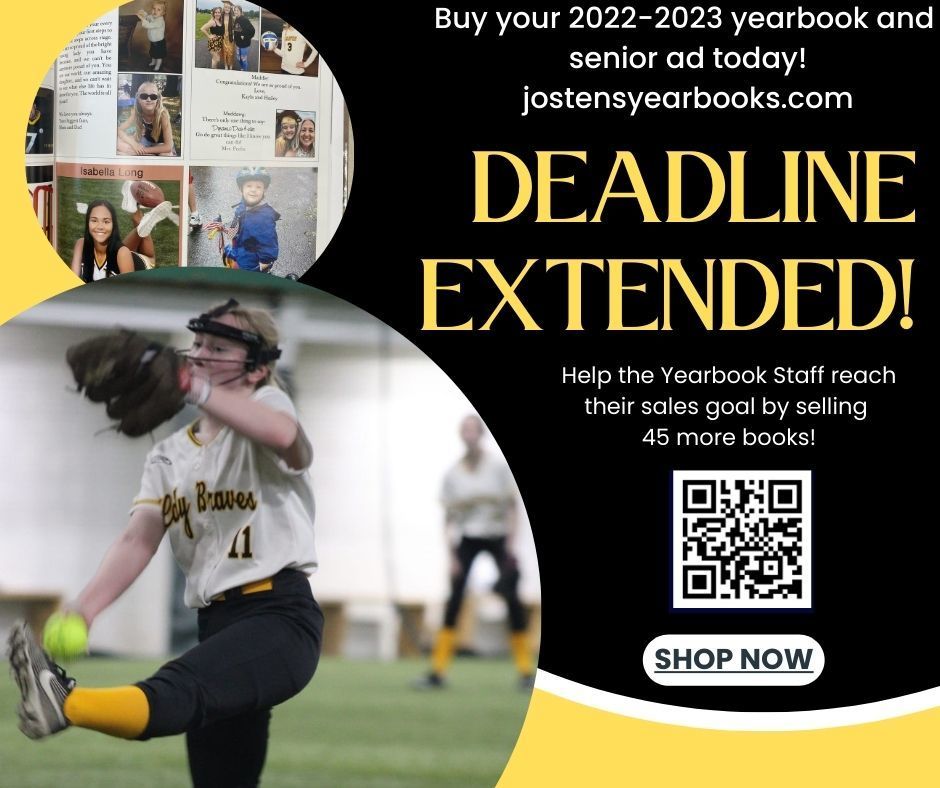 Students in Grades 3 - 8 will be participating in the statewide 2023 Pennsylvania System of School Assessment (PSSA), which is required by the PA Dept. of Education. Please click on link for additional information.
https://5il.co/1rjcj

Iroquois High School students currently enrolled in Algebra I, Algebra B, English 10, and Biology will participate in the Keystone Assessments. Please click on the link for information.
https://5il.co/1rjck

Good Afternoon, Iroquois Elementary School and AmeriCorps have a summer opportunity at IES for interested individuals in summer employment. Please see the attached flyer for additional information.

The deadline to order a yearbook is March 24th. Get one while you can...