The Iroquois School District Foundation will be celebrating 20 years of supporting the students in the Iroquois School District with the theme "For the Love of the Kids". Please consider giving during this Holiday Season.
http://bit.ly/3rj7K2G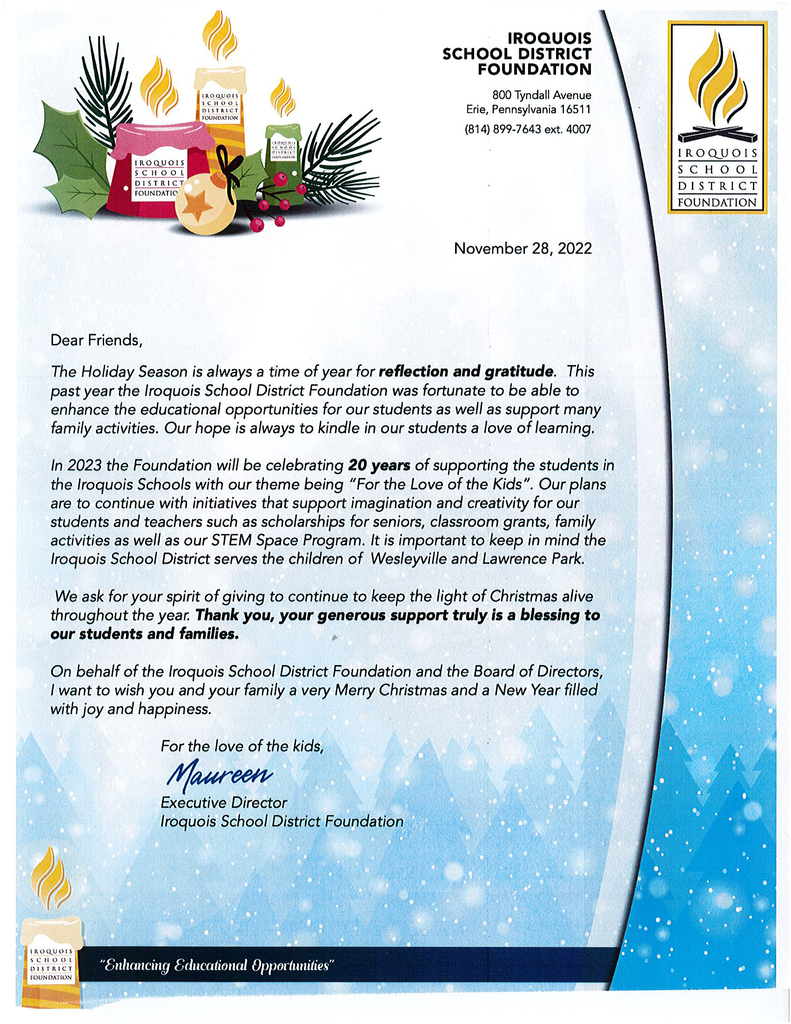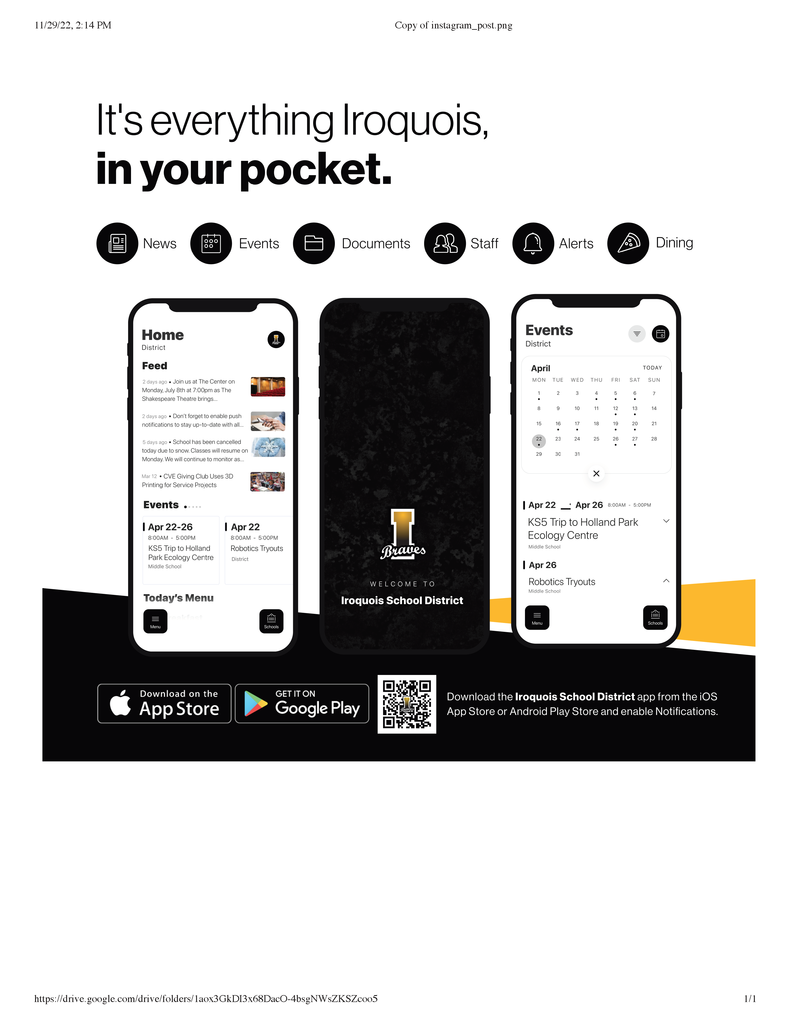 The Iroquois All Sports Boosters are looking for your help. Please come to the next Booster Meeting, on January 18 @ 6:00 p.m. or sign up to help in the concession stand for the Winter Sporting Events.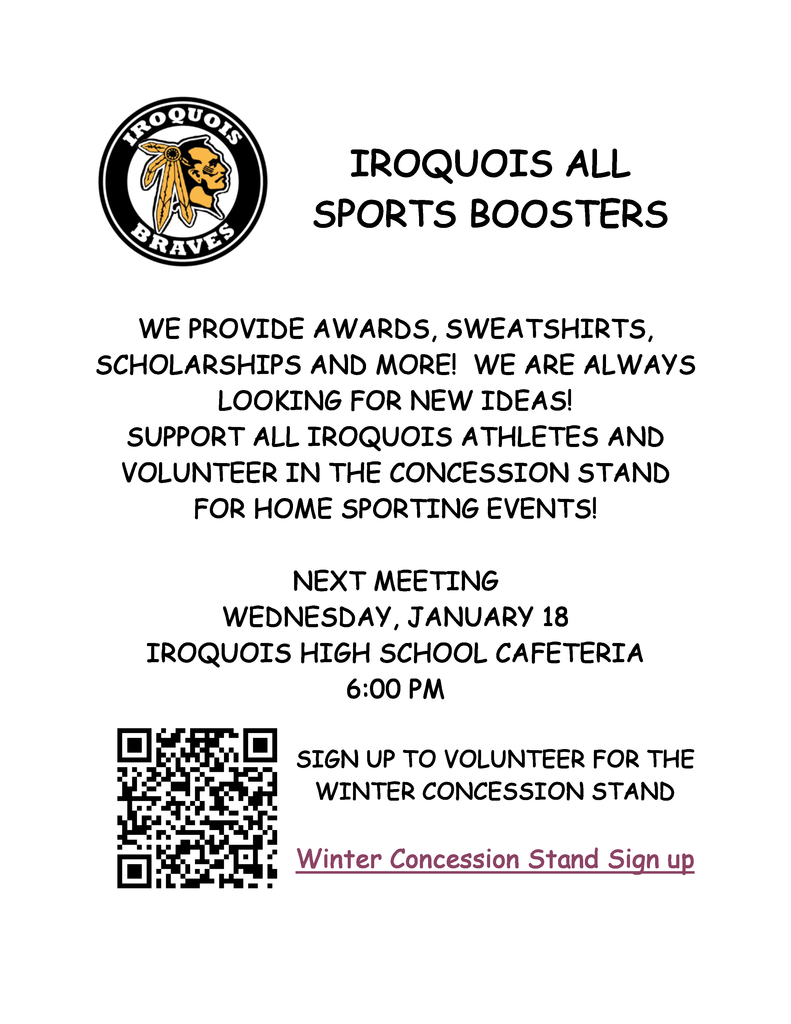 Iroquois Little League is sponsoring a swim night tonight at the Iroquois High School Pool from 6:00 - 9:00 pm. The cost is $5.00 per person and $10.00 per family. Any student attending must have a parent waiver signed.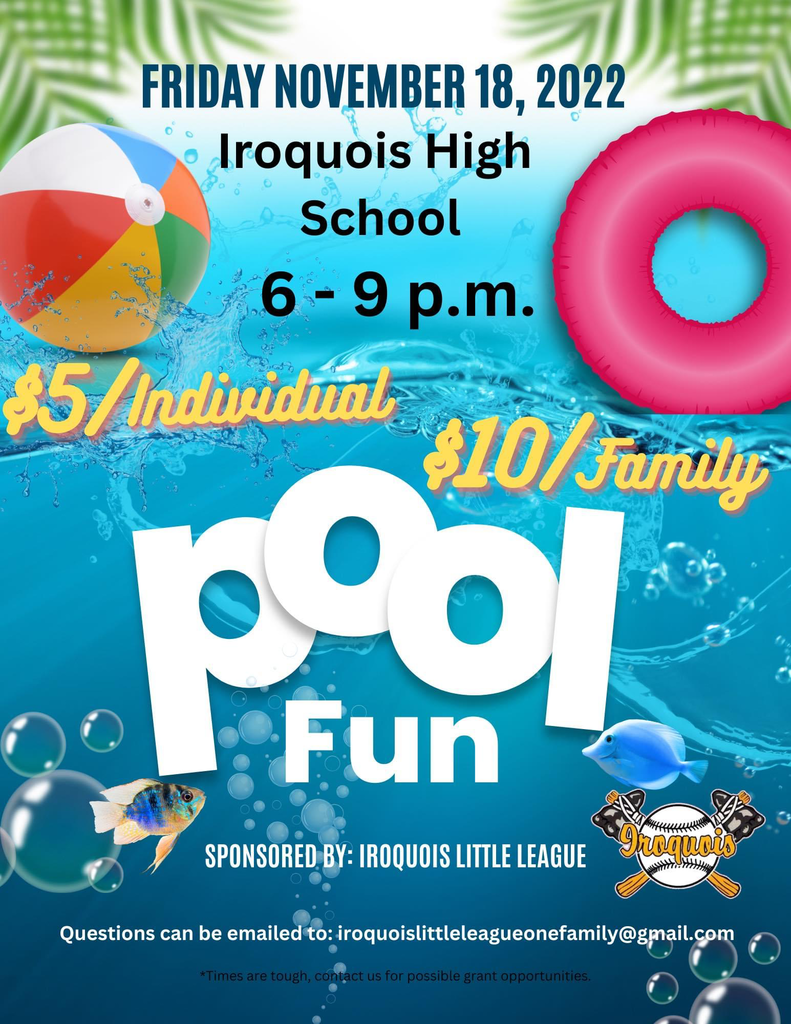 Iroquois High School Basketball Cheer Tryouts will be held on November 17, 2022 at Iroquois High School from 7:00 - 8:00 p.m.

This week is School Psychologist Awareness Week! We recognize and appreciate Tessa Mackey and Seth Hembree! Thank you for supporting our students and staff!

The Iroquois School District is proud to announce the 5th through 8th grade student finalists in our Student Spaceflight Experiments Program (SSEP). Please click on the link for more information. Link:
https://bit.ly/3UrDDTA

Iroquois School District Band Director, Christopher Wise, has been named Band Director of the Month for November.
https://bit.ly/3Nqr74F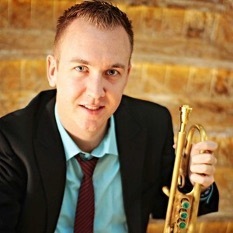 Good afternoon families of 5th, 6th, 7th and 8th grade students! Your student has spent the last nine weeks working on an experiment to be conducted in microgravity through the Student Spaceflight Experiments Program (SSEP). We are in the final stages of selecting the top 5 proposals from each building and will invite the top 10 teams and their families to an evening event next Tuesday, November 8. Please save the date and know that more information will be forthcoming for those whose proposals have been selected to move on to the next step in the process! Thank you!

Read 180 Teacher Success Story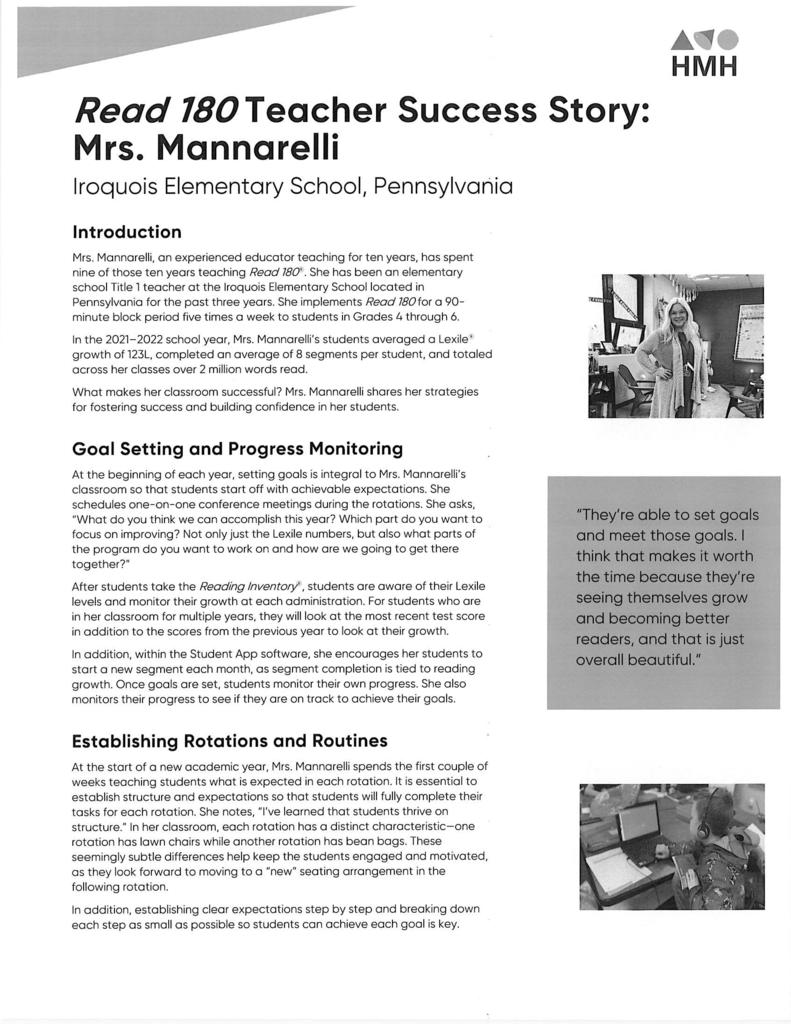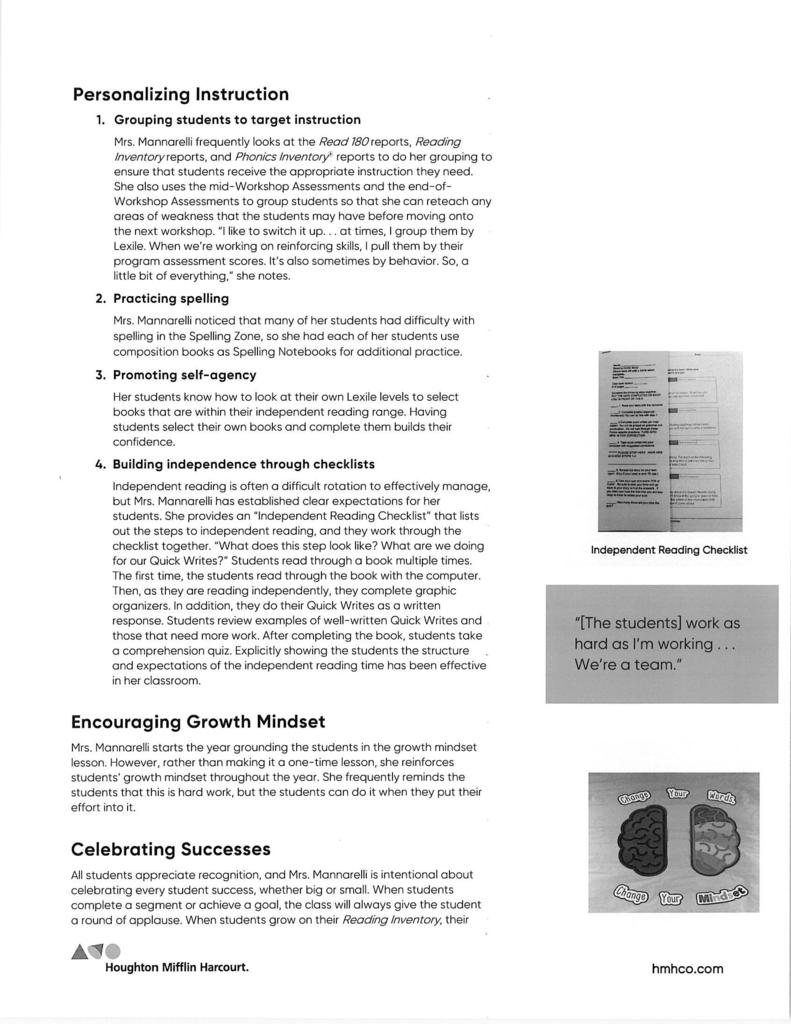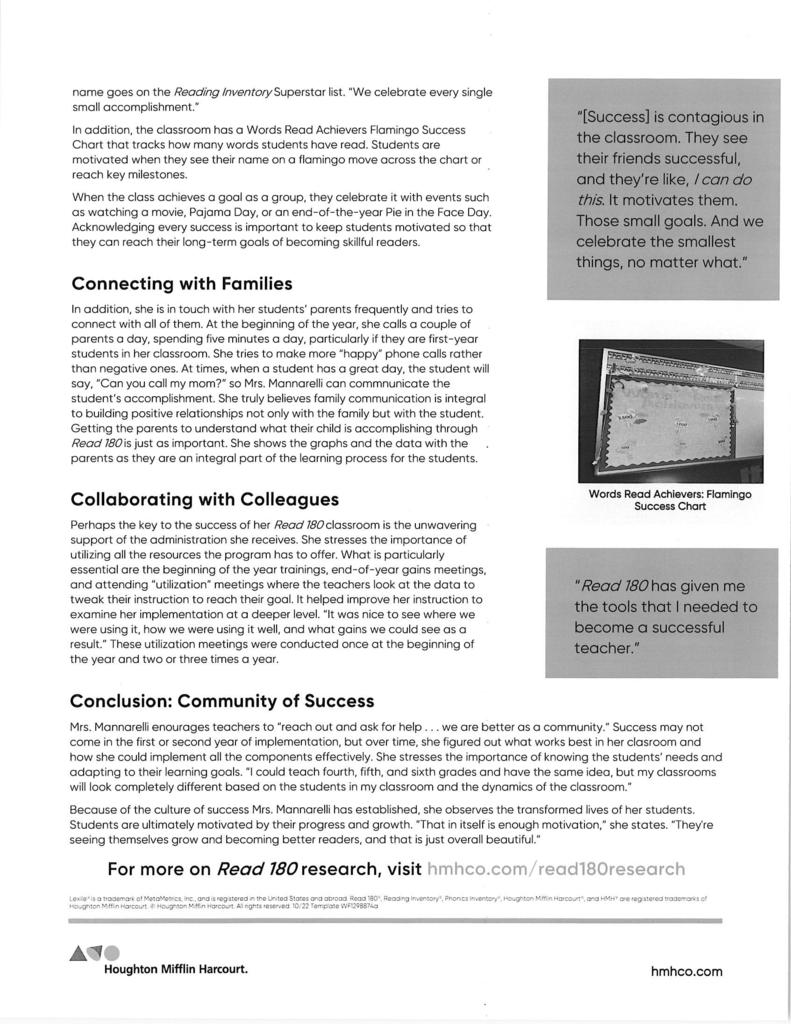 Iroquois Students design experiments for space. Their work will possibly be part of International Space Station's mission.
https://bit.ly/3Dhoz5m

The Iroquois School District Foundation would like to introduce the "Legends of Iroquois Inductees" Class of 2022.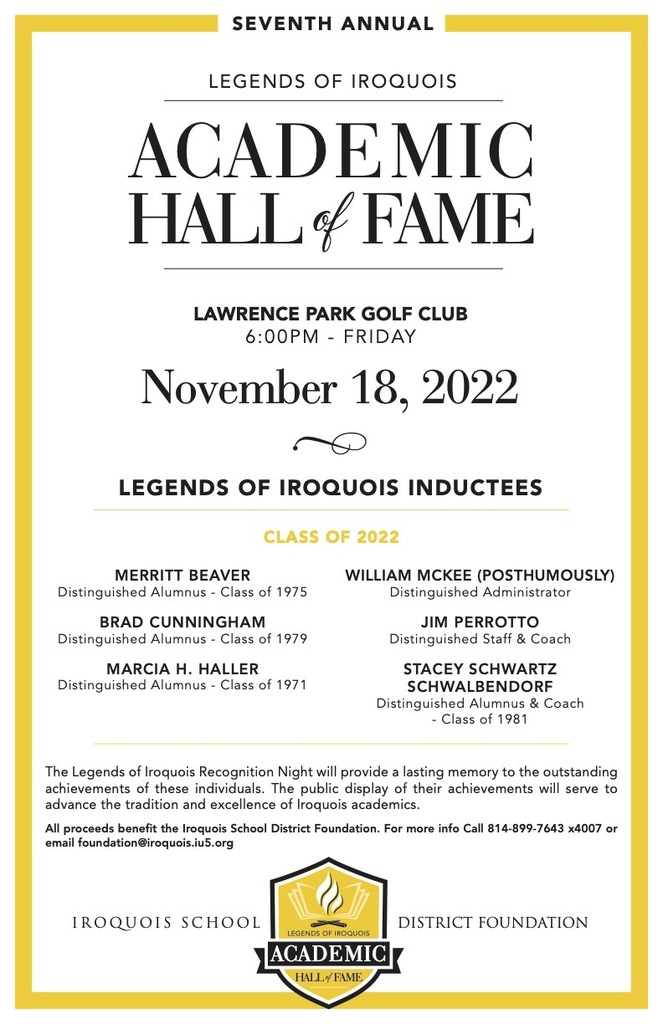 The Iroquois School District and Lawrence Park Police Dept invites you to this community event on Monday, November 7, 2022. Please see attached flyer for additional information.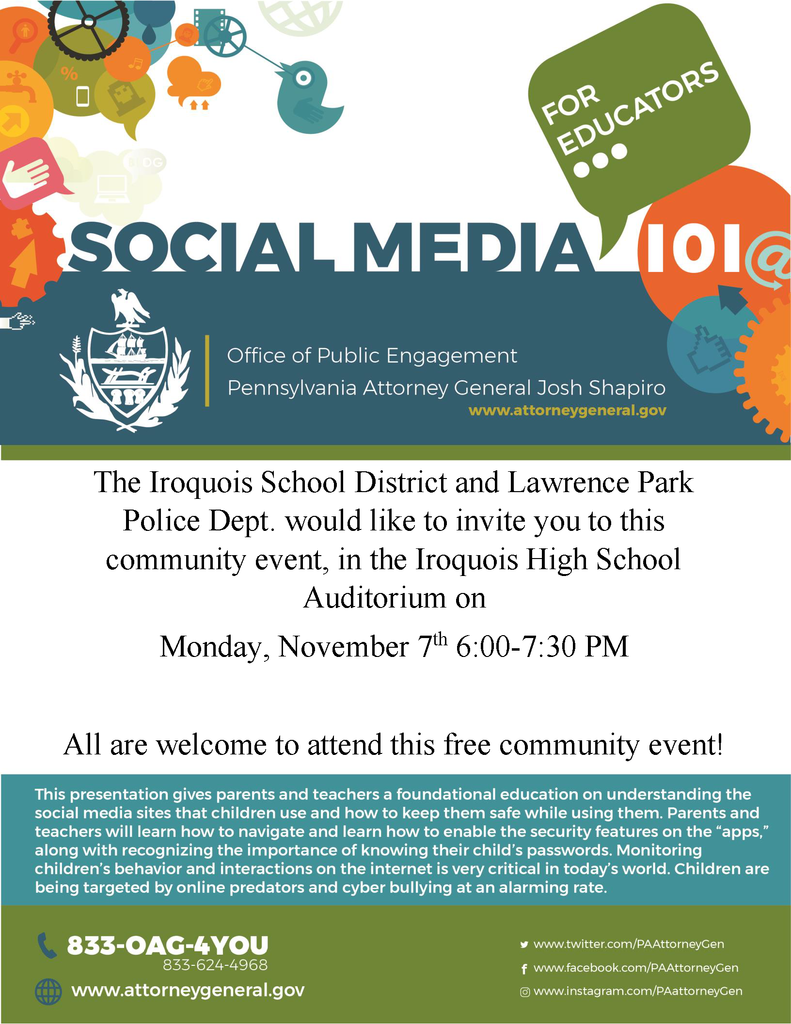 The Nutrition Group is now hiring positions and substitute positions within the Iroquois School District. Please visit :
https://thenutritiongroup.biz/
and Search careers: Iroquois.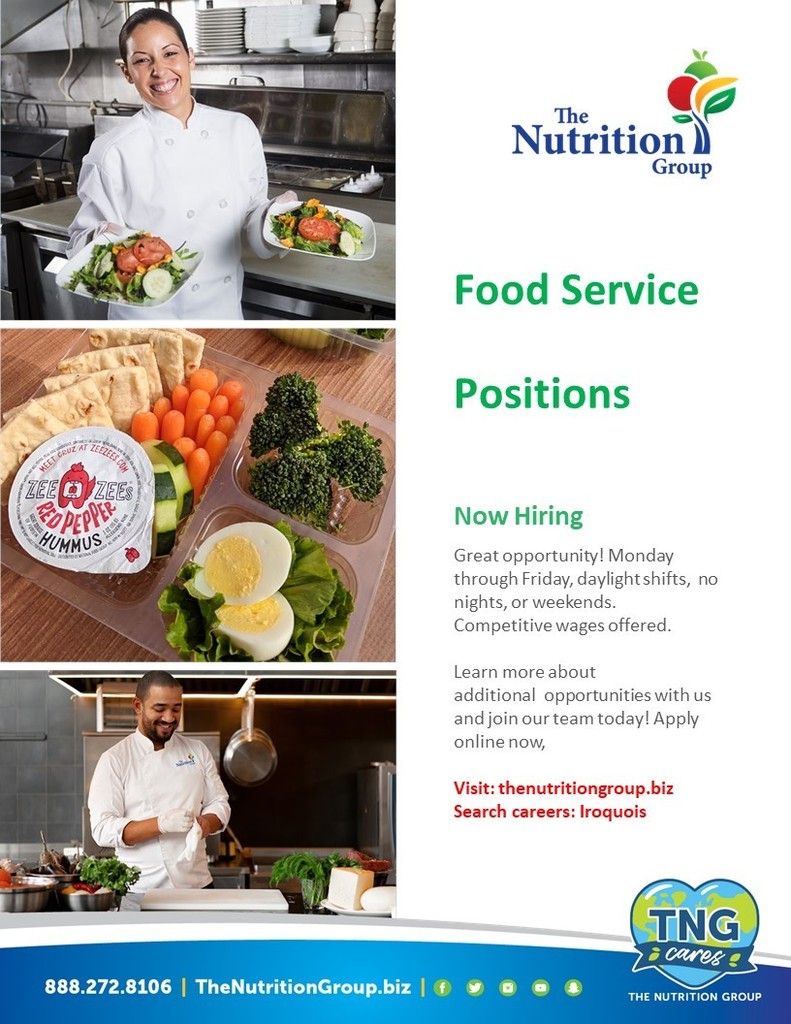 The Iroquois 5/6 Girls Basketball team brought home a tough 28-23 road win @ the North East Pickers. These girls are working hard and it is starting to pay off. Great Job Ladies!

Join us to support the Iroquois High School Cheerleaders at their Fall Festival on Saturday, October 8, 2022 from 4:30 PM - 7:30 PM.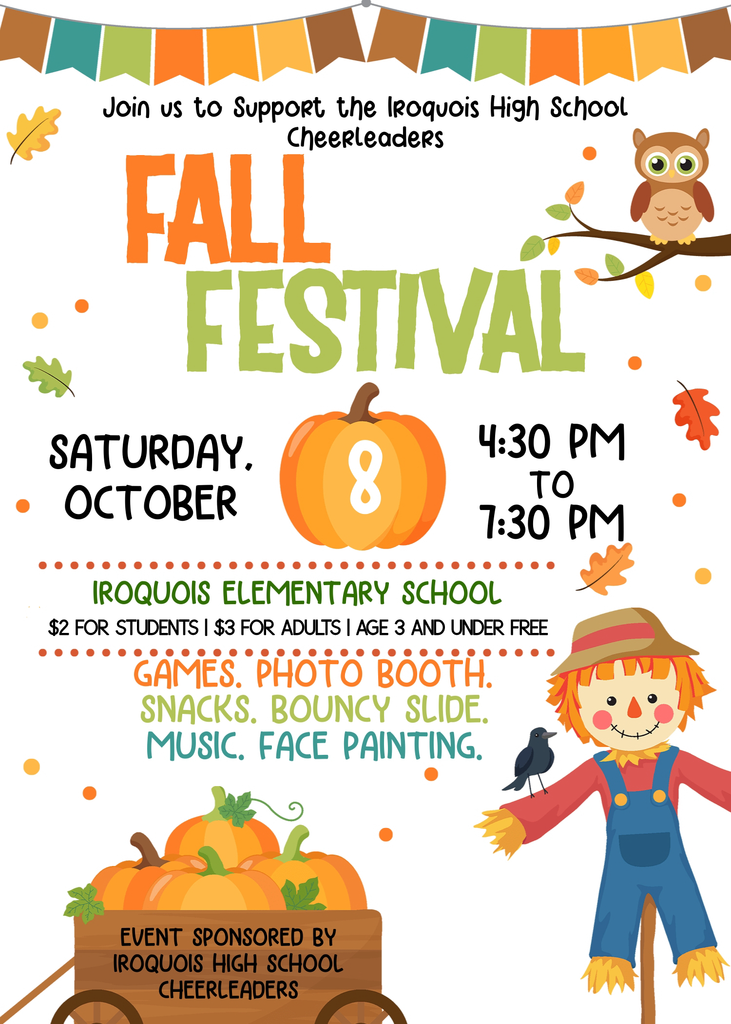 Congratulations Andrew Hatton on earning a place in the PIAA class AA Individual State Championships. With today's 80 Andrew moved up to 7th place overall and now he will represent Iroquois in State College.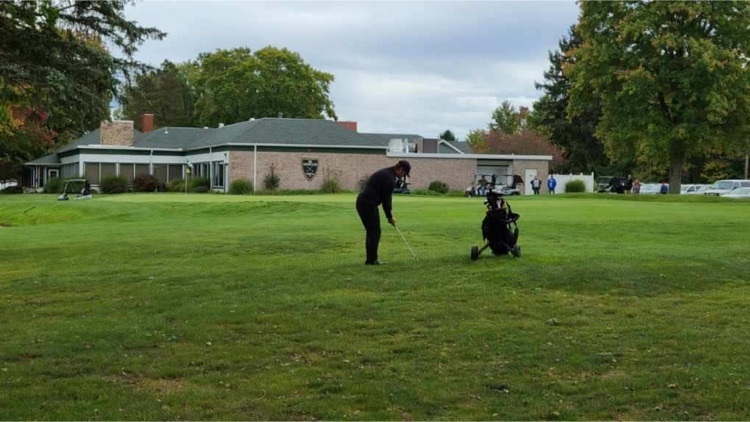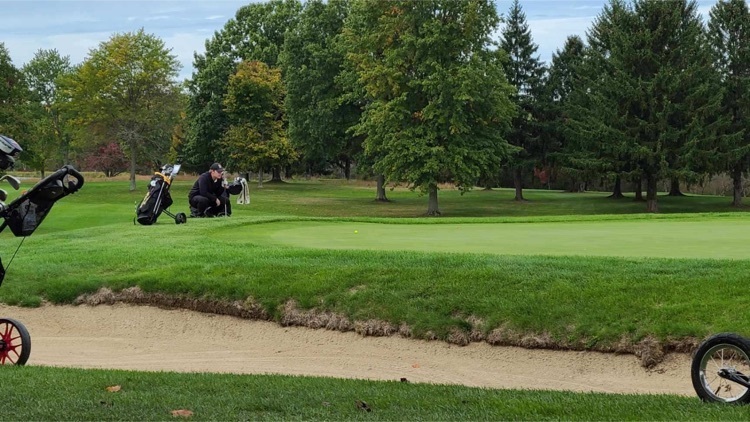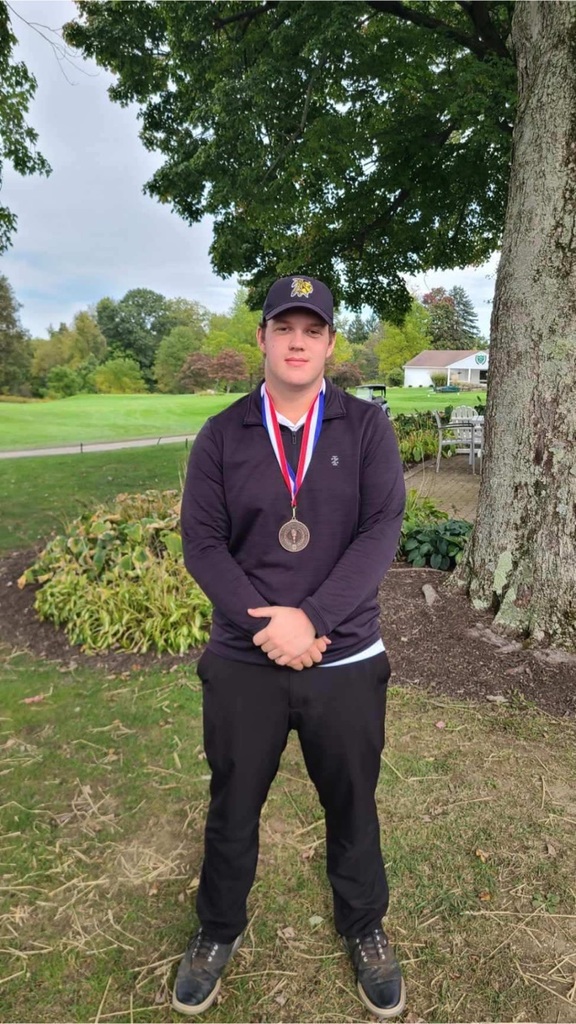 Iroquois Golfer, Andrew Hatton, competed in day one of the District 10 AA individual championships. Andrew tee'd off in a chilly 47-degrees but he battle through and finish day one with an 83 (+11). His score earned him a spot in day 2, he will tee off tomorrow morning in hopes of earning a spot at States. Good Luck!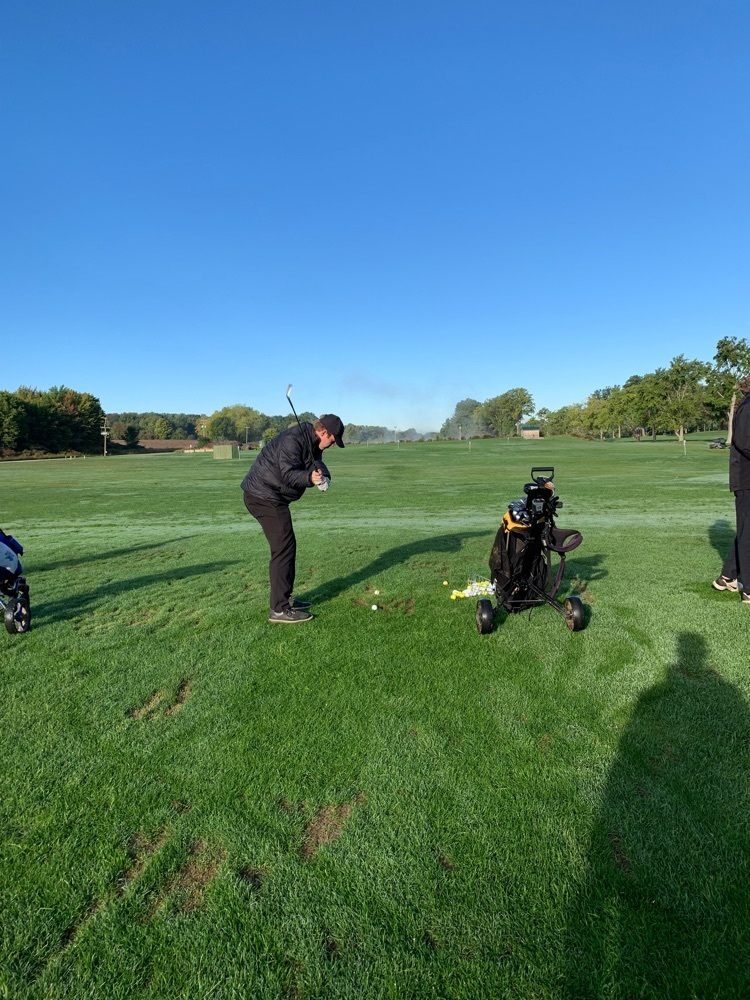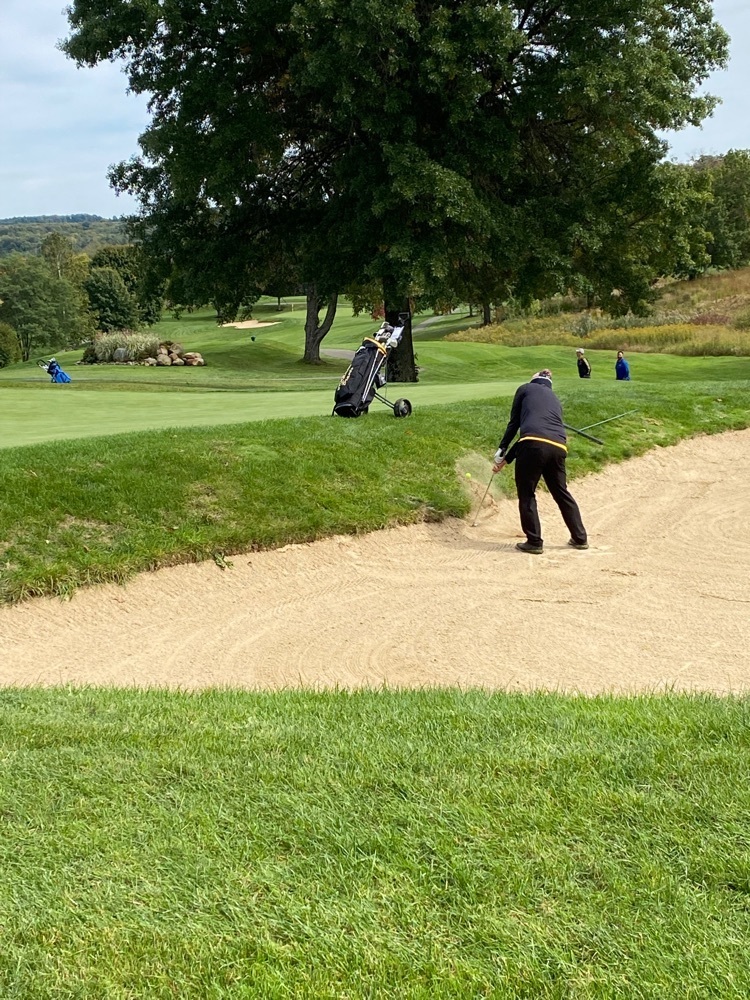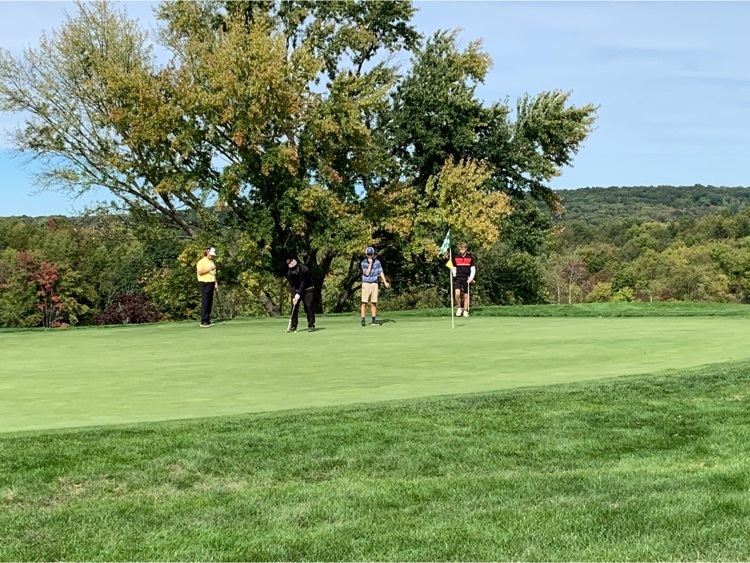 We are just a few weeks away from Homecoming Week at Iroquois Jr-Sr High School. That means we are busy planning the parade, the bonfire, the coronation, and the dance! For the parade - we need your help! We would love to have as much community and school involvement as possible in the parade this year! If you, your club, group, team, or something else would like to be in the parade - please reach out to Jake Trojak at
jtrojak@iroquois.iu5.org
to get more information!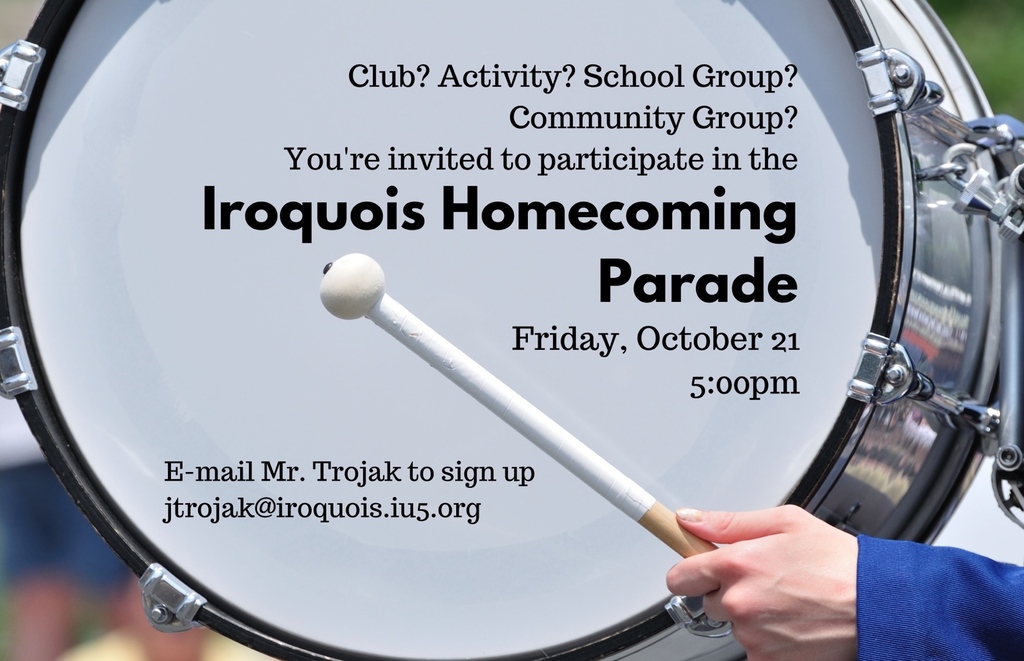 The Iroquois Girls Soccer Team will be having a Pancake Breakfast and Chinese Auction on Sunday, October 9th from 8:00 am - 10:00 am at Applebee's, 4002 Buffalo Road. Come and support our Lady Braves.