Possible Fraud Alert: The Iroquois School District has been notified that someone has been attempting to solicit monetary donations for a program called "Literacy & Love Project". Solicitations indicate that this is a district supported program. Please be aware that Iroquois School Board has not approved any fundraising efforts with this organization. If you have donated to this program with the idea that this money was going to the Iroquois School District, please contact the Iroquois School District's Superintendents office by phone or email. 814-899-7643 ex 4002 or email
smurray@iroquois.iu5.org

Due to the rising number of cases of COVID-19 in Erie County, Iroquois School District will be postponing the annual Winter Meet the Braves, originally scheduled for Tuesday 11/23. The new date will be announced following the holiday break. Stay safe and happy holidays.

Iroquois School District Foundation - 2021 Hall of Fame - Please click on the link to watch the video of the Iroquois Legends: Academic Hall of Fame. Video begins at 6:00 pm tonight.
https://bit.ly/3cwsSvn

The Iroquois School District is looking for your feedback regarding federal funding. Please take a moment to fill out this brief survey; we appreciate your participation. Thank you. Link to survey:
https://bit.ly/3FrckBo

Congratulations Ethan Klinzing and Max Nicolussi on your nomination for the 2022 Save an Eye All-Star Game! Good luck, Go Braves!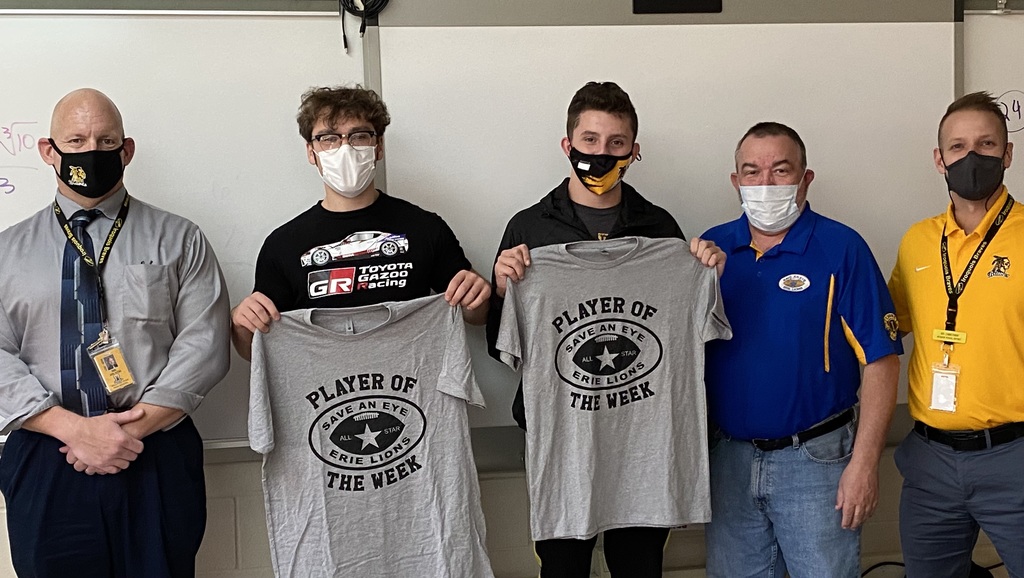 Good afternoon Iroquois Families! As a reminder, on Tuesday, November 9, 2021, students in grades K-8 do not have school to allow for parent-teacher conferences. Students in Pre-K and grades 9-12 are expected to attend school on Tuesday, November 9, 2021. If you have any questions, please contact your student's respective school office by calling (814) 899-7643. Dial extension 1000 for IHS or 2000 for IES. Thank you!


Please join us for an All Sports Boosters Meeting on Wednesday, October 20, 2021 at 6:00 pm in the High School Cafeteria.

Tonight's girls soccer match will take place at the Junker Center on the Penn State Behrend campus at 8pm. There will be no cost to attend, GO BRAVES!

Let's celebrate our new stadium field with the Iroquois Braves football team at their last home game and senior night this Saturday. The game starts at 7:00. Prior to the game from 5:30 to 6:30 come join families and friends of the Braves at a picnic in the parking lot. This is a bring your own chair and favorite picnic food event with no additional charge. We hope to see you there for some community spirit as we cheer on the Braves who will take on Saegertown.

Athletics Announcements Tonights Girls volleyball match @ Corry is available on
www.thecorryjournal.com/sportsstream
(boxcastapp search for DeeJ experience) Additionally, there have been several changes due to official shortages, transportation shortages, and a few other factors... Please check the Iroquois Athletics page Calendar for an up to date look at our upcoming games. GO BRAVES!

Winter sports athlete signups are online, visit the athletic webpage or bit.ly/3F6qPv9 to sign up. All athletes with current fall physicals will need to get a SECTION 7 form completed and to the coach before the first practice. This form is online and in the front office. GO BRAVES!

Join PHEAA on Weds, Oct. 6th at 5:30pm for a virtual Financial Aid/FAFSA Night webinar. This presentation provides an understanding of student financial decisions, as well as a assistance completing the FAFSA form. The link to this event is located on your student's Schoology page.

Open House Reminder - Please join the staff tomorrow, September 22nd from 6pm - 7:30pm at the school for our annual Open House. This will give you the opportunity to meet your student's teachers and walk their daily schedule.

Iroquois Boys Soccer, win number 1, and a region win ta'boot! Homecoming weekend; JH Boys Football, Varsity Football, Girls Cross Country, Boys Cross Country, and Boys Soccer brought home victories!!

Boys and Girls Varsity Cross Country are the winners at PSB! Keep the wins coming Braves!!


There will be a meeting for student grades 7-12 on Tuesday, September 14, 2021 for anyone interested in being a part of the school play this year. Student will meet the new advisor and have a conversation about the upcoming play(s).